Regular price
Sale price
KSh460.00
Unit price
per
Sale
Sold out
Generic TYPE C TO Audio 3.5mm Jack
The Generic Type C to Audio 3.5mm Jack is a must-have accessory for anyone who has a device with a USB Type-C port but wants to use their traditional audio gear. This product allows you to connect your audio devices such as headphones, speakers, and car audio systems to your Type-C device. It is compatible with almost all Type-C devices such as smartphones, tablets, and laptops.
The Type C to Audio 3.5mm Jack is made with high-quality materials that ensure durability, and it guarantees you a long-lasting, efficient performance. It is designed to be compact and lightweight so that you can easily carry it around. The simple design and easy-to-use features of the product make it an excellent option for those who want an uncomplicated solution for their audio needs.
The Type C to Audio 3.5mm Jack also allows for seamless and easy plug-and-play functionality. This means that you do not need any additional software or drivers to use it. Simply plug it into your Type-C port, and you are good to go. With the Generic Type C to Audio 3.5mm Jack on hand, you can enjoy your favorite music and videos without worrying about compatibility issues. It is an excellent investment for anyone who wants to enhance their audio experience without breaking the bank.
The product supports up to 24bit/96KHz audio output, providing clear and crisp audio quality, which is especially important for audiophiles. With this product, you can enjoy your music and videos without any lag, interruption, or distortion. It also features a built-in DAC (Digital-to-Analog converter), which ensures that you get quality and accurate sound output.
Get this and other vention items today at VERTEXHUB.SHOP or visit our shop today ata Oldmutual building, 2nd floor, room 220E, Kimathi street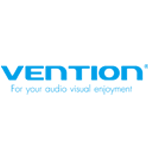 Share
View full details